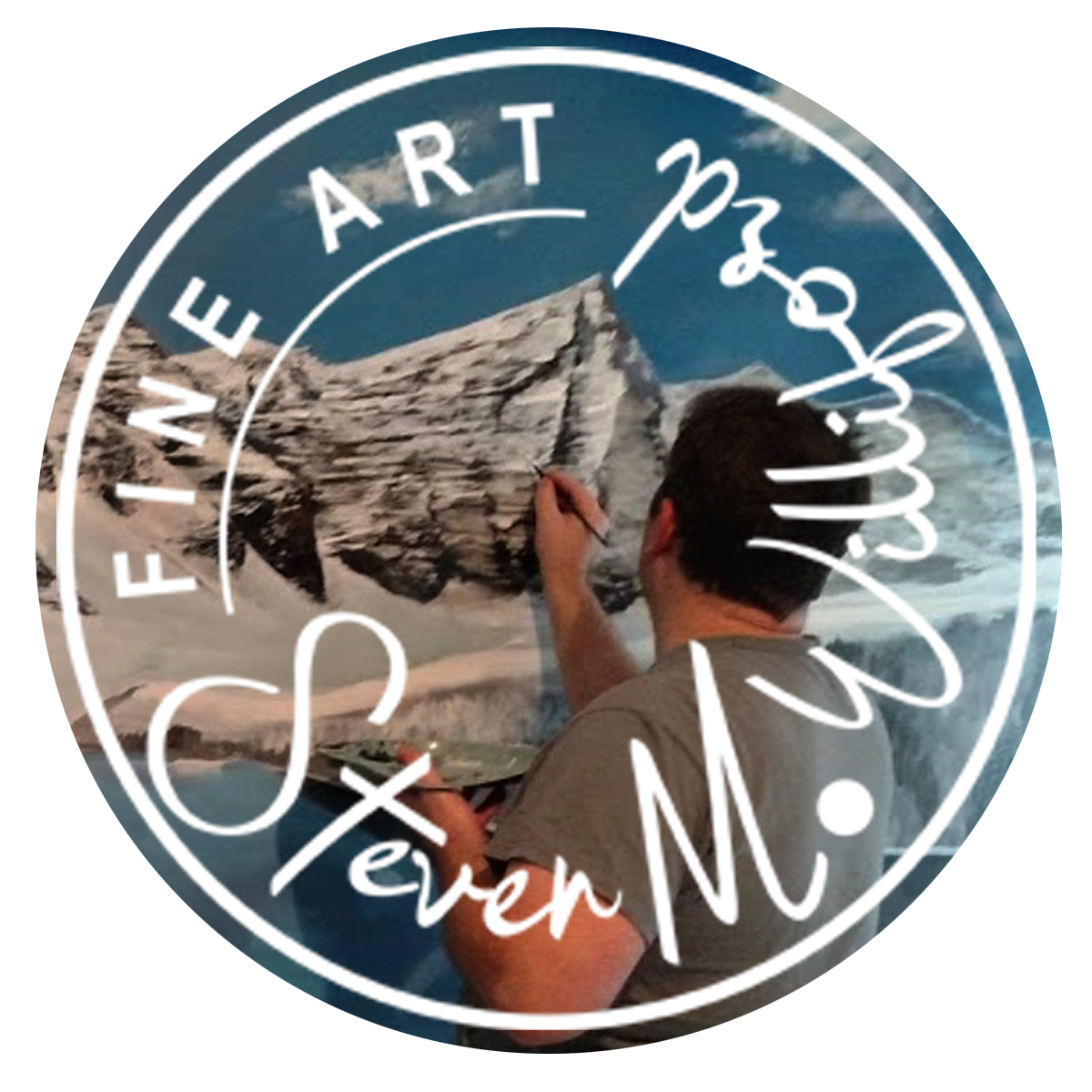 My Company produces custom art for you, your clients and company identities.
What sets me apart is that I capture emotions of moments in my work. I also work my clients budgets to keep high quality art affordable.
My clients consist of business owners, CEO's and upper management who need that "one of a kind gift" for that "hard to buy for," client or business partner.
A unique gift, like a painting, allows them to stand out and be remembered in a most exclusive way.
Unlike other artists, I work with my client's to make sure there is 100% customer satisfaction at the completion of every project.
My art is influential.
Don't keep me confidential.
Painting
Scenic painting, Portrait work, Large Abstract Textures, Murals
More information
Custom painting industry pricing standards
When pricing a custom painting on canvas industry standard is to charge by the square inch. Because every project and the amount of detail the rang can be between $1.20 per square inch on the low end to $4.55 on the high end per square inch. The most popular size is a 16"x20" canvas.
Example: 16" X 20" =320 inches
320 X $1.20 = $384.00 Low end
320 X $4.55 = $1,456 High end
Murals and Scenic Painting is charged in square feet and travel time can also factor into the project.
Every project is different and if you have a budget in mind it is best to tell the artist upfront to see if this something he/she accommodate your request.
Things to have answers to.
1.Thick or Thin canvas ( Thin canvas is easy to frame )
2. Have a size ready. Have a place where you are wanting hang your piece. This means to measure the area and remember to compensate for the size of the frame.
3. Shipping can be a big cost for you and the artist. Be prepared to pay piece plus shipping
Once the project is completed it will then need your 100% approval before it is signed and the varnished with a sealant

Drawing
Custom Commission Drawing. I work with you and your budget.
More information
Custom Drawing industry pricing standards
Best practice is to have size and budget in mind before asking for a quote for a drawing project.
Custome Drawing Pricing is all about the amount of detail required and the a has a few levels
Sketch can have custom pricing with the number of changes and creative styling.
Note: When this is used for just getting both parties on the same page I may or may not be a charge. Minimum prices range from $25 to $50 if the project requires.
Drawings can be calculated by the square inch when portrait work is not involved.
Normal range from low end $0.75 to $3.00 on the high end.
Example: 8" X 10" =80 inches
80 X $0.75 = $60.00 Low end
80 X $3.00 = $240.00 High end
Portrait work ranges from
Per face and size
Range $45 to $100 per face this can be added together if the project includes face and background.
Once the project is completed it will need your 100% approval before it is signed and the sprayed with a sealant

Sculpting
Custome Commission Sculpture. I do hand held to large center pieces.
More information
Sculpting Pricing
This is on per piece basis.
Range starts around $200 for some palm-sized. When using sculpting clay.
Other materials can be discussed on a per-project basis.
No charge for the concept consultant
Digital Mockups may come with a charge if more then two mock-ups are produces
Watch your project come to life
Time-lapse videos of your project can be an option and not always an extra change if you help promote the video on your Facebook page or Instagram page
Graphic Design
Graphic design services cost between $100 and $850 on average nationwide, depending on the size of the project, number of revisions, and expertise of the designer.
Photo Restoration
Industry standards
Prices for our Restoration Only Service start at $95, while the Full Service starts at $150. To give you an idea, an average restoration is usually $250, but an extreme restoration can be as much as $500. With several experts working on each image, high-end photo restoration isn't a cheap option
Photography
You can expect to pay about $50 to $100 for a session. The cost of photo prints or digital photos may be a separate charge, so ask upfront about what's included in the session fee.
Getting lost in the creative world is my place of euphoria. I work with all my client's request and I do not take payment until they are 100% happy with the final result. I give progress reports as each project comes to life and I am open to changes at any time during the process. My clients keep me very busy because they tell me they love being part of the creative process. Plus, they love that I always bring out the emotions they where striving for in their vision.
These are always changing so keep checking back to see what I am working on. Feel free to reach out and ask me any questions about any of the projects.
Thank you for choosing Steven M. Williford FINE ART. Your support is what keeps me growing
All project the client was 100% happy with the project before any money is accepted.
Steven did two paintings for our family and I love them both! I would hire him again to capture our precious memories. Great quality and great price too.
Steven did an amazing job recreating my favorite old snapshot and turning it into my favorite painting! It's unbelievable the detail that he puts into his work! He's wonderful about being excited about the project you've chosen him for, he gives updates about how things are going throughout the project and of course the finished product is amazing! I would recommend his work to anybody I know and plan to work together with him on future painting projects.
I have ordered three pieces from Steven Williford was amazing to deal with throughout the entire process. One project I asked for a special painting for my husband that involved the silly Patriots Team and Steven was able to paint a brilliant piece all from his imagination. He did a painting of one of my favorite wedding photos and I fell in love! The third one was a piece for my boss of his grandson. This piece was a big project, but Steven was able to pull it off and it was perfect. He took great care when shipping all of my orders. Thank you, Steven
Steven is extremely talented and brought to life the exact thing I wanted to surprise my husband for Father's Day. He is super collaborative and all around an amazing person and artist!!
Let's Start Something new

Say Hello!
I'm excited to hear from you.